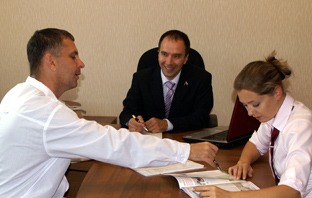 "Rost-Med" Company is a professional vendor of medical materials, equipment, medicines and reagents for distant, municipal, regional medical & prophylactic institutions in Sakhalin Region; female counseling centers; preliminary medical aid stations; private medical institutions; diagnostic centers and clinics.
We offer a wide range of medical products from domestic and foreign producers at reasonable prices with flexible discount system. We make a complex clinic fitting with up-to-date diagnostic and medical equipment, repair and technical support of special medical equipment and appliances, and other services.
Partnership benefits
Constant products availability at storages – most of our products can be purchased immediately at place without delay; we always have products reserve at storages in Sakhalin Region, ready to supply necessary equipment immediately.
Service quality – products are delivered with high-level service. All the materials have necessary registration documents of RF Ministry of Healthcare. Close and long-term business relations with largest producers enable us to perform in-time delivery. Our specialists will easily select equipment that you need, considering your work specification.
Service applicability and information support – we live and work in Sakhalin Region, that allows to better understand our clients' requests and needs. "Rost-Med" Company is constantly searching for new progressive solutions in the sphere of medical and diagnostic equipment, introduces innovative appliances to Sakhalin market, always expanding products catalogue. Our clients can receive all possible finance consultations.
Flexible cost policy and delivery on your terms – company values their clients and ready to provide different financial ways for products purchasing. We minimize financial and time expanses, and consider all clients' demands, concerning delivery and dispatch.